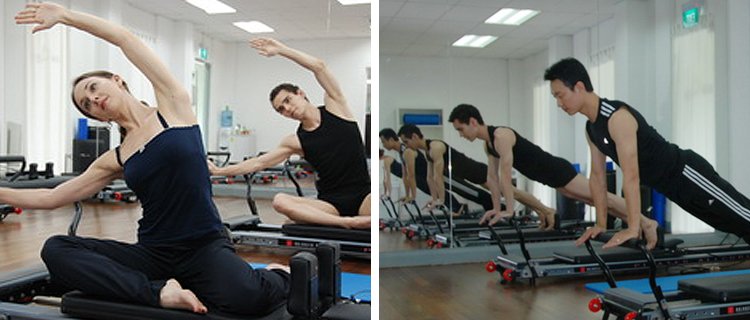 PRIVATE 1 on 1
A private lesson is the perfect way to make sure your personal needs are addressed, whether its re-alignment, post rehabilitation, pre/post natal training or targeted towards perfecting that golf swing. A programme will be designed to suit your individual needs. Under the watchful eye of your own personal instructor, who will guide your every move and with a large range of equipment to make sure you get what is best for you, the best results are assured.
DUO 1 on 2
Duo sessions are done either in the Studio or on the Reformers. Semi privates are usually done as couples or with friends. It is a fun, relaxed way to work out with the added motivation of a friend or loved one to support you. One instructor will work with the duo to make sure both clients' needs are addressed.
TRIO 1 on 3
Trios are 3 people with one instructor. Trios training will be done on the Reformers, using Mat and small props,as well. Friends and small families can enjoy the privacy and special attention of a small grouping at a time that suits their needs while still enjoying the personal attention needed by each of them as individuals.
GROUP REFORMER
Group classes are deliberately kept small so that every client receives attention. Group Reformer classes are done on the Balanced Body Allegro Reformers. They are a fun way to get a good work out, make new friends and get a toned, flexible and strong body at the same time. Classes range from beginners to advanced levels, so there is a class to suit everyone! Mat work and the use of small props are incorporated into classes.
DANCE CONDITIONING
A combination of ballet, floor barre and Pilates. Our Dance conditioning classes will be taught by professional dancers. Classes are designed to increase strength, flexibility and body awareness for stronger technique and injury prevention. We welcome all dancers pre professional, professional and Adult dancers, as well as non dancers wanting a stronger, leaner body.
PRIVATE GROUP CLASS
If you have a group of friends who would like a private class, the Studio will be happy to accommodate your needs.
MAT CLASS
Mat classes are a great workout. They are fun and very challenging. Mat classes challenge your strength and stability as the class really puts those core muscles to the test. Mat classes are also kept small to allow each client the opportunity to improve and to know his or her own personal strengths and weaknesses. Small props will be used and Mats are provided.
CORPORATE CLASSES
Corporate classes available.
---